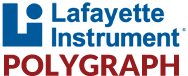 LX4000 POLYGRAPH SYSTEM
Model LX4000-S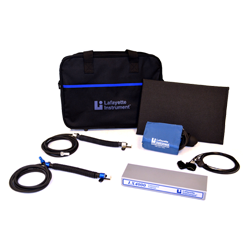 DESCRIPTION
The LX4000 Computerized Polygraph System records, stores, and analyzes physiological changes during a polygraph examination. The LX4000 system combines conventional polygraph procedure with sophisticated state of the art technology. Results are derived from the following traditional physiological parameters:
Pneumo - Two Respiration Input Channels
EDA - Galvanic Skin Response
Cardio - Blood Volume / Pulse Rate
We currently offer a Plethysmograph (PPG) Model 76604A-5L with an adaptor (Model 76604ADP) to measure finger pulse and blood volume, Activity Sensor Model 76879S to measure any movement by the subject to help identify countermeasures. A total of seven channels can be recorded at one time.
Charts are recorded in much the same manner as conventional polygraph instrumentation with a smooth scrolling display moving from right to left. The tracings recorded are in real-time and are truly rectilinear, so charts can be easily interpreted. See polygraph software page for a sample of the tracings. The system can be operated using a mouse / pointing device or the keyboard.
There are limited quantities of LX4000 units available; we recommend considering the LX5000 or LX6 systems instead. Visit our Polygraph comparison sheet for more information about each of our systems.
KIT INCLUDES
LX4000 Data Acquisition System
LX4000 BENEFITS
Best in industry UL 94 V-0 rated, ASTM tested, PVC/Acrylic material; delivering exceptional impact resistance, extreme durability and inclusion-free surface quality
Fully integrated POLYSCORE and OSS scoring algorithms
Integrated security password and system lockout
High resolution, real-time graphic display of physiological wave forms
Windows integrated software allows point and click navigation
Fully integrated word processing template for report capabilities
Extensive built-in help program with tutorial and trouble shooting sections
View, score and print charts without the DAS interface attached
Capable of real-time printing
Numeric chart evaluation templates
Lafayette Drug Reference written by Dr. Catherine B. Wilmore, Ph.D., Department of Pharmaceutical Sciences, University of Maryland at Baltimore.
SPECIFICATIONS
DAS
Size: 10.25" W x 3.25" D x 1.25" H (26.04cm x 8.26cm x 3.18cm)
Weight: 1 lb (454g)
Communication Interface: USB
Power Supply Requirements: Receives All Required Power Through USB Connection
Range: 10Kohms to 2.0Mohms
Isolation: 1500V RMS
SENSOR INPUTS
| | | |
| --- | --- | --- |
| INPUT | CH | SPECIFICATIONS |
| Cardio Arm Cuff | 1 | 0 to 110mmHG |
| Pneumograph Chest Assembly | 2 | +/-80mmHG |
| EDA | 1 | Constant Current Applied to Skin 6.7µA |
| Auxiliary Input | 3 | 0 to 4V Analog Input |
MINIMUM COMPUTER SYSTEM REQUIREMENTS*
At least a 1.5 GHz processor recommended
3 GB RAM for 32-bit OS or 4 GB RAM for a 64-bit OS
80 GB harddrive, with at least 20 GB free for video recording
Windows XP SP3, Windows Vista 32/64, Windows 7 32/64, Windows 8 32/64, or Windows 10 32/64
Support for DirectX 9 graphics with:

WDDM Driver
128 MB of graphics memory
Pixel Shader 2.0 in hardware
32 bits per pixel

Audio Output
Keyboard and Microsoft ® Mouse or compatible pointing device
Available USB 2.0/3.0 Ports. Connecting a video camera to an external USB hub is not recommended.
Digital sound card required for multimedia capabilities
Digital video camera required for video capture. Logitech or Microsoft web camera recommended. Many popular IP (networked) cameras are supported by LXSoftware.**
External Microphone may be required for recording audio, depending upon host computer's configuration (e.g. no built-in microphone), examine / examinee location, ambient noise, etc
* Additional resources may be required for certain video devices. Always consult the documentation for any selected video device to ensure the host computer meets the stated system requirements.
** IP cameras may experience audio/video lag or other undesirable behavior. The use of a directly-attached camera is highly recommended.
FEATURES
Our new USB Interface enables the LX4000 to communicate with virtually any Windows based PC computer.
The LX4000 is capable of simultaneously displaying and recording seven input signals
The LX4000 is Small and Compact, making transporting it even easier.
The Redesigned EDA Circuit has a greater operating range, increased sensitivity and subject isolation.
OPTIONAL ACCESSORIES
PLE/PPG ADAPTOR

Model 76604ADP
This PLE/PPG Adaptor is required for using the 76604A-5L with an LX4000 System.
PROTECTIVE POUCH FOR LX4000

Model LX-4000P
Protective Pouch for storing and carrying the Lafayette Instrument Company LX4000 Computerized Polygraph System DAS Instrument.
7FT PLE/PPG CLIP

Model 76604A-5L
The Photoelectric Plethysmograph (PLE/PPG), is a finger sensor used to measure the rapidly occurring relative changes in pulse blood volume.
CUSHIONED PORTABLE SUBJECT'S CHAIR

Model 76877P
Specially designed chair for examiners who travel or perform tests "in the field."
RELATED PRODUCTS
LX4000 POLYGRAPH SYSTEM WITH LAPTOP

Model LX4000-515
LX4000 Polygraph that includes a Polygraph DAS, Laptop, LXSoftware, Pneumo Assemblies, Cardio Cuff, Pump Bulb, EDA Assembly, Activity Sensor, and all necessary cabling.
Copyright © 2009 - 2018 lafayette Instrument Company. All Rights Reserved.