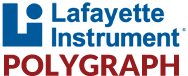 LX6 POLYGRAPH SYSTEM
Model LX6-S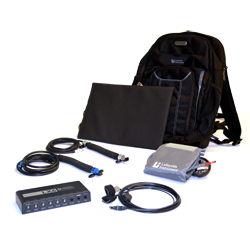 DESCRIPTION
Lafayette Instrument is excited to announce our next generation polygraph instrument, the LX6.
LX6 FEATURES
Superior Fischer Connectors® brand connections*
Electronic sensors cannot be incorrectly connected
Recessed pneumatic ports
Durable and easy to grip molded cables
Rugged molded and textured enclosure
Improved port layout and labeling
Enclosure weighted and designed for added stability
32 Bit data resolution
Additional AUX port (10-Channels)
Standard HID USB driver (no FTDI driver required)
Best in industry electronics and EDA
Compatible with current LXSoftware and future Lafayette polygraph software
Package includes same accessories as current systems
LX6 exclusive 5-year instrument warranty
* Connections from Fischer Connectors feature a quick release mechanism and are rated for twice the mating cycles of connectors used by other manufacturers.
LX6 SYSTEM INCLUDES
LX6 Polygraph Data Acquisition System
LXSoftware Bundle with OSS and APL's Polyscore Scoring Algorithm
Activity Sensor
Pneumo Chest Assembly, Silver
Pneumo Chest Assembly, Blue
Repositionable/Disposable with 2 Reusable Snap EDA Electrodes
Exclusive to the LX6, new Blood Pressure Cuff and Pump Bulb
Targus Backpack
SPECIFICATIONS
Requires LXSoftware 11.7.1+
Size: 8.1" x 3.22" x 1.21" (20.6 x 8.2 x 3 cm)
Isolation: 5000Vrms isolation on all channels
Enclosure material: ABS
Power: USB connection
Data Transfer Rate: 360 samples/second across all channels
Resolution: 32-bit analog to digital conversion
Temperature:

Operating: 32° to 125° F (0° to 52° C)
Storage: -44° to 150° F (-40° to 66° C)

Relative Humidity: 20% to 80% Non-condensating
Meets ASTM standards
Enclosure UL 94V-0 rated
CE certified/meets EMC directive
SENSOR CHANNELS
INPUT

CHANNELS

SPECIFICATIONS

Cardio

1

0 to 140 mmHg

Pneumatic Pneumo

2

Extended pressure range

EDA

2

GSR: 4 μA constant current, range of 10 kΩ to 2.3 MΩ

GSC: range of 5 kΩ to 4.0 MΩ

Isolation: additional 2000Vrms

PPG

1

PPG finger clip: 0.47 second time constant, 940 nm

Activity Sensor

4

0 to 4 V Analog Input
MINIMUM COMPUTER SYSTEM REQUIREMENTS*
At least a 1.5 GHz processor recommended
3 GB RAM for 32-bit OS or 4 GB RAM for a 64-bit OS
80 GB harddrive, with at least 20 GB free for video recording
Windows Vista 32/64, Windows 7 32/64, Windows 8 32/64, or Windows 10 32/64†
Support for DirectX 9 graphics with:

WDDM Driver
128 MB of graphics memory
Pixel Shader 2.0 in hardware
32 bits per pixel

Audio Output
Keyboard and Microsoft ® Mouse or compatible pointing device
Available USB 2.0/3.0 Ports. Connecting a video camera to an external USB hub is not recommended.
Digital sound card required for multimedia capabilities
Digital video camera required for video capture. Logitech or Microsoft web camera recommended. Many popular IP (networked) cameras are supported by LXSoftware.**
External Microphone may be required for recording audio, depending upon host computer's configuration (e.g. no built-in microphone), examine / examinee location, ambient noise, etc
† Lafayette Instrument will be phasing out support for Windows XP and Windows Vista in the near future. We recommend upgrading to at least Windows 7 to continue to get necessary security and functionality updates.
* Additional resources may be required for certain video devices. Always consult the documentation for any selected video device to ensure the host computer meets the stated system requirements.
** IP cameras may experience audio/video lag or other undesirable behavior. The use of a directly-attached camera is highly recommended.
Copyright © 2009 - 2019 lafayette Instrument Company. All Rights Reserved.