CARRYING CASE WITH WHEELS
Model LX-1055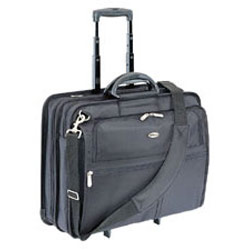 DESCRIPTION
Dual Catalog Computer Case made of 1200 Denier Polyester with front down front organizer, pen loops, disk mesh pockets, main compartment for laptop / printer, inline skate wheels with retractable handle, shoulder strap, and carrying handle.
This is the ultimate case for the traveling computer user. It is great for those long walks through the airport. There is plenty of room for your complete computer polygraph system. The exterior has pockets for many miscellaneous items. Sturdy construction and telescoping handle will allow you to carry all of your instrumentation safely and easily.
SPECIFICATIONS
Size: 18" x 14" x 8"
Color: Black
Material: Leatherette
Copyright © 2009 - 2016 Lafayette Instrument Company. All Rights Reserved.