ACTIVITY SENSOR FOOT PAD
Model 76870FS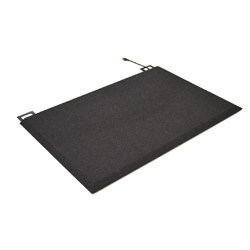 DESCRIPTION
This foot pad's design and functionality is similar in concept to the Activity Sensor Pad, Model 76879S, except it is encased in metal instead of fabric pouches for added durability. It is utilized to detect movements in the feet and legs of an examinee during a polygraph test. The sensor is placed on floor in front of a chair and the examinee's feet rest upon it.
Available for Large Adjustable Arm Subject's Chair only, otherwise, view Model 76879F Foot Sensor for the Cushioned Portable Subject's Chair in the RELATED PRODUCTS tab.
RELATED PRODUCTS
ACTIVITY SENSOR FOOT PADS FOR PORTABLE CHAIR

Model 76879F
Pair of foot activity sensors for use with Computerized Polygraph Systems and our Cushion Portable Subject's Chair only.
Copyright © 2009 - 2016 Lafayette Instrument Company. All Rights Reserved.