POLYGRAPH EXAM SIGN WITH TRIPOD
Model LX-1595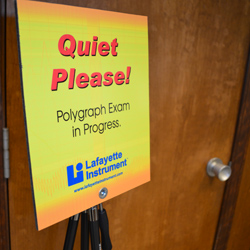 DESCRIPTION
Lafayette Instrument has designed a portable tripod mounted "Quiet Please" Sign. Developed for placement in entry ways, or hallways, this system will allow you the silence necessary to conduct an examination.
Door signs are going un-noticed, and exams can be interrupted by loud noises outside the examination room. Our "Quiet Please" sign is light-weight, easy to store, and fits in any brief case, or backpack.
Copyright © 2009 - 2016 Lafayette Instrument Company. All Rights Reserved.