LOGIN
TRANSPORT AND CASES
Carrying, Transport, and Storage Cases for our Lafayette Instrument LX5000 Standard DAS and Modular Computerized Polygraph Systems. Includes cases for the LX5000 system and its accessories.

Storage Pouch for LX5000
Model LX-5000P
Online Price: $ 30.00*
Carrying Pouch for the Lafayette Instrument Company LX5000 Computerized Polygraph System DAS Unit.


Small Pelican Case
Model LX-1060
Price: $ 245.00*
The Small Pelican Case is unbreakable, watertight, airtight, dustproof, chemical resistant and corrosion proof.

Carrying Case With Wheels
Model LX-1055
Price: $ 225.00*
Dual Catalog Computer Case made of 1200 denier polyester with wheels.

Portable Carrying Case
Model LX-1050
Price: $ 135.00*
This lightweight durable case has many compartments and will easily store.

Sensor Storage Pouch
Model LX-1045
Price: $ 45.00*
This pouch has six pockets with velcro latches to keep all of your accessories.
CONTACT OUR SALES AND SUPPORT TEAM FOR MORE INFORMATION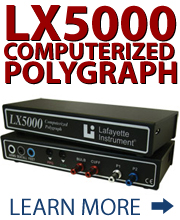 Find Lafayette