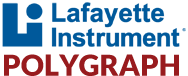 LX5000 POLYGRAPH SYSTEM
Model LX5000-S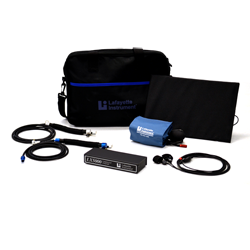 DESCRIPTION
The LX5000 computerized polygraph system records, stores, and analyzes physiological changes during a polygraph examination. The LX5000 system combines conventional polygraph procedure with sophisticated state-of-the-art technology. This system records a total of nine channels at one time.
KIT INCLUDES
LX5000 Polygraph Data Acquisition System
SPECIFICATIONS
HARDWARE SPECIFICATIONS
Size: 7 3/8"W x 2 3/4"D x 1 3/8"H (20cm x 6.98cm x 3.49cm)
Weight: 0.52 lbs (235g)
Power Requirements: Receives all required power through USB connection
Transfer rate: Up to 360 samples per second/channel
Resolution: 24-bit analog to digital conversion
Temperature:

Operating: 32 to 125° F (0 to 52° C)
Storage: -40 to 150° F (-40 to 66° C)

Relative Humidity: 20% to 80% Non-condensating
Best in industry UL 94 V-0 rated, ASTM tested, PVC/Acrylic material; delivering exceptional impact resistance, extreme durability and inclusion-free surface quality
LX5000 SENSOR CHANNELS
INPUT

CH

SPECIFICATIONS

Cardio

1

0 to 140 mmHg

Pneumatic Pneumo

2

Upper and lower chest assembly w/ extended pressure range

EDA

2

GSR: 4 μA constant current, range of 10 kΩ to 2.3 MΩ
GSC: range of 5 kΩ to 4.0 MΩ
Isolation: 2 KV RMS

PPG

1

PPG finger clip: 0.47 second time constant, 635 nm

Activity Sensor

3

0 to 4 V Analog Input
MINIMUM COMPUTER SYSTEM REQUIREMENTS*
At least a 1.5 GHz processor recommended
3 GB RAM for 32-bit OS or 4 GB RAM for a 64-bit OS
80 GB harddrive, with at least 20 GB free for video recording
Windows XP SP3, Windows Vista 32/64, Windows 7 32/64, Windows 8 32/64, or Windows 10 32/64†
Requires .Net Framework 4.7.1
Support for DirectX 9 graphics with:

WDDM Driver
128 MB of graphics memory
Pixel Shader 2.0 in hardware
32 bits per pixel

Audio Output
Keyboard and Microsoft ® Mouse or compatible pointing device
Available USB 2.0/3.0 Ports. Connecting a video camera to an external USB hub is not recommended.
Digital sound card required for multimedia capabilities
Digital video camera required for video capture. Logitech or Microsoft web camera recommended. Many popular IP (networked) cameras are supported by LXSoftware.**
External Microphone may be required for recording audio, depending upon host computer's configuration (e.g. no built-in microphone), examine / examinee location, ambient noise, etc
† Lafayette Instrument will be phasing out support for Windows XP and Windows Vista in the near future. We recommend upgrading to at least Windows 7 to continue to get necessary security and functionality updates.
* Additional resources may be required for certain video devices. Always consult the documentation for any selected video device to ensure the host computer meets the stated system requirements.
** IP cameras may experience audio/video lag or other undesirable behavior. The use of a directly-attached camera is highly recommended.
FEATURES
Data transfer rate up to 360 samples per second across all channels
24-bit analog to digital conversion
Wired USB connectivity
Small, compact design making transport and storage easy
Expandable: can add up to 3 additional modules
Extended measurement ranges
Selectable GSR or GSC channel
PPG channel included
Durable, yet lightweight design
Operates with same trusted, state-of-the-art LXSoftware
3 year warranty and lifetime technical support
OPTIONAL ACCESSORIES
PROTECTIVE POUCH FOR LX5000

Model LX-5000P
Protective Pouch for storing and carrying the Lafayette Instrument Company LX5000 Computerized Polygraph System DAS Instrument.
7FT PLE/PPG CLIP

Model 76604A-5L
The Photoelectric Plethysmograph (PLE/PPG), is a finger sensor used to measure the rapidly occurring relative changes in pulse blood volume.
CUSHIONED PORTABLE SUBJECT'S CHAIR

Model 76877P
Specially designed chair for examiners who travel or perform tests "in the field."
RELATED PRODUCTS
LX5000 POLYGRAPH SYSTEM WITH LAPTOP COMPUTER

Model LX5000-515
Computerized Polygraph that includes a Laptop Computer and the LX5000 Polygraph System.
LX5000 POLYGRAPH SYSTEM UPGRADE

Model LXUPGRD5
Upgrade your current LX3000 or LX4000 DAS to the LX5000 Computerized Polygraph System, includes everything from the LX5000 Polygraph System.
Copyright © 2009 - 2021 lafayette Instrument Company. All Rights Reserved.