ASIT COMPUTER SCORING PROGRAM
Model LXASIT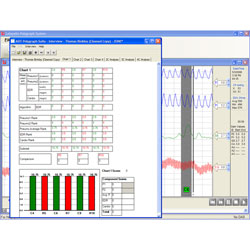 DESCRIPTION
Lafayette Instrument Company has worked with the Academy for Scientific Investigative Training (ASIT), directed by Nathan Gordon, to tightly integrate the ASIT computerized scoring algorithm with the LXSoftware. Using the LXSoftware, sensor line length and magnitude measurements can be easily made using the LXSoftware's chart review calipers. These measurements are transmitted automatically and transparently to the ASIT scoring algorithm, greatly simplifying computerized scoring using the ASIT algorithm. The ASIT computerized scoring algorithm is sold separately from LXSoftware.
REQUIRED ACCESSORIES
LX4000 POLYGRAPH SYSTEM KIT

Model LX4000-S
LX4000 Polygraph Kit that includes a Polygraph DAS, LXSoftware, Pneumo Assemblies, Cardio Cuff, Pump Bulb, EDA Assembly, Activity Sensor, and all necessary cabling.
LX POLYGRAPH SOFTWARE VERSION 11.6.1

Model LXSOFTWARE
Our Windows-based systems offer unparalleled ease of use and proven reliability. Windows 10 Compatible!
STANDARD LX5000 MODULAR POLYGRAPH SYSTEM KIT

Model LX5KM-SW
Computerized Polygraph Kit that includes a Cardio Module, Pnuematic Pneumograph Module, GSR Module, Activity Sensor Module, and our LX Polygraph Software.
Copyright © 2009 - 2016 Lafayette Instrument Company. All Rights Reserved.