POLYSCORE FULL PROGRAM
Model POLYSCORE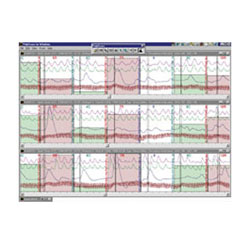 DESCRIPTION
POLYSCORE version 7.0h is now available in our Software Updates area. V. 7.0h no longer requires authorization upon installation, but is limited to usage with Lafayette charts. V. 7.0a is still available for multiple chart formats, but still requires authorization.
POLYSCORE Polygraph Software was created by the Applied Physics Laboratory at Johns Hopkins University. The latest version of POLYSCORE is now Windows based for ease of use. It allows you the ability to view and print stacked charts. Another feature that examiners will find valuable, is the on-screen color-coded bar graph display. This feature makes it very easy to graphically display reaction strengths, allowing for easy public / novice interpretation. Additionally, by upgrading to this version of POLYSCORE, current LX users will now be able to fully utilize all of its previously unavailable features.
Notice: PolyScore v7.0h resolves the January 1, 2017 expiration notice error message.
REQUIRED ACCESSORIES
LX4000 POLYGRAPH SYSTEM KIT

Model LX4000-S
LX4000 Polygraph Kit that includes a Polygraph DAS, LXSoftware, Pneumo Assemblies, Cardio Cuff, Pump Bulb, EDA Assembly, Activity Sensor, and all necessary cabling.
LX5000 POLYGRAPH SYSTEM KIT

Model LX5000-S
Computerized Polygraph Kit that includes a Seat Activity Sensor, Blue and Silver Pneumographs, Arm Cuff, and an EDA Cable.
RELATED PRODUCTS
POLYSCORE UPGRADE

Model POLYUPGRD
Upgrade to the newest version of POLYSCORE from another version.
Copyright © 2009 - 2016 Lafayette Instrument Company. All Rights Reserved.