FINGERPRINT AND SIGNATURE SCANNER
Model LXSIGPRINT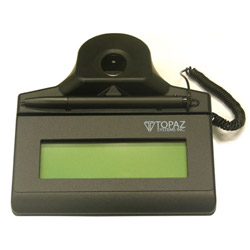 DESCRIPTION
High-quality, high-resolution Electronic Signature pad and integrated fingerprint sensor. It will capture and recognize signature and fingerprint imaging. Designed for ergonomic and natural finger and thumb scanning from the front of the touch pad without awkward movement.
SPECIFICATIONS
Signature Resolution:

410 True points per inch

ID Sensor Resolution:

512dpi

Dimensions:

6.2" x 6.3" x 1.9" 157.5 x 160 x 48.3mm

Signature Sensor Type:

Touchpad

Pen Type:

Passive Stylus

Fingerprint Sensor Type:

Optical Sensor

Warranty:

1-Year
Copyright © 2009 - 2016 Lafayette Instrument Company. All Rights Reserved.