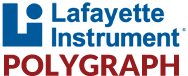 LXSOFTWARE VERSION 11.8.3
Model LXSOFTWARE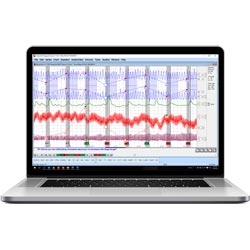 DESCRIPTION
Our Windows-based systems offer unparalleled ease of use and proven reliability. LXSoftware version 11.8.3 is bundled with the PolyScore and Objective Scoring System (OSS-3) scoring algorithms.
NEW FEATURES
Support for LX6!
Updated Drug Reference
Added Administrative Opinion to the Final Call options
Lafayette PI-DAS can be used as an EDA sensor
New Multimedia Bar shows duration of multimedia presented
Ability to see unique serial number of attached DAS
LXSOFTWARE FEATURES
Compatible with Windows Vista, Windows 7, 8, and 10

Mac support is also available via Parallels® or another virtualization software.

New Respiration Line Excursion (RLE) Tool

The RLE tool measures the ratio of the relevant response divided by the comparison response and produces a suggested pneumograph score. As the examiner selects a relevant question, the tool normalizes it to all other questions on the chart and displays the R/C measurement ratio.

New ESS-M Report Generator

Uses scores from the manual score sheet to formulate a printable report and summary conclusion paragraph to describe the test results of event-specific and multi-issue exams.
Report includes both a categorical result and a statistical classifier in the form of a p-value, confidence level or odds ratio, and also includes the manual scores and information about test accuracy.
NEW ESS-Multinomial (ESS-M) reference distributions
Support for the vasomotor (PLE/PPG) sensor
Bayesian analytic model in the ESS interpreter
A test of proportions to calculate whether artifacts are random or possible countermeasures
Support for two-stage and sub-total scoring rules

PLE Pulse Amplitude Tool

A virtual sensor derived from the PPG sensor providing a visual comparison of the pulse amplitude changes in the PPG data around the question onsets.

EDA Design (6) EDA choices (GSR or GSC - Tilt table, detrended, and automatic)

Supports the LX5000 GSR or GSC modes
Automatic: classical high-pass filter solution to EDA signal processing. Attempts to keep the trace centered on a common baseline.
Manual: examiner is in charge of controlling the sensor trace via centering, sensitivity, and slope adjustments. The slope may be adjusted via a slider control under the sensor arrow.
Detrended: hands-off solution with extremely high correspondence with the manual EDA. Attempts to keep the trace centered on a common baseline, but the sensor trace is not permitted to dip below its corresponding sensor arrow.
PolyScore Note
APL has removed PolyScore's compatibility with Windows Vista and older. Due to security and functionality concerns, Lafayette Instrument advises Vista users to upgrade to at least Windows 7 before the end of Microsoft Vista extended support in April 2017.
SPECIFICATIONS
MINIMUM COMPUTER SYSTEM REQUIREMENTS*
At least a 1.5 GHz processor recommended
3 GB RAM for 32-bit OS or 4 GB RAM for a 64-bit OS
80 GB harddrive, with at least 20 GB free for video recording
Windows Vista 32/64, Windows 7 32/64, Windows 8 32/64, or Windows 10 32/64
Support for DirectX 9 graphics with:

WDDM Driver
128 MB of graphics memory
Pixel Shader 2.0 in hardware
32 bits per pixel

Audio Output
Keyboard and Microsoft ® Mouse or compatible pointing device
Available USB 2.0/3.0 Ports. Connecting a video camera to an external USB hub is not recommended.
Digital sound card required for multimedia capabilities
Digital video camera required for video capture. Logitech or Microsoft web camera recommended. Many popular IP (networked) cameras are supported by LXSoftware.**
External Microphone may be required for recording audio, depending upon host computer's configuration (e.g. no built-in microphone), examine / examinee location, ambient noise, etc
* Additional resources may be required for certain video devices. Always consult the documentation for any selected video device to ensure the host computer meets the stated system requirements.
** IP cameras may experience audio/video lag or other undesirable behavior. The use of a directly-attached camera is highly recommended.
REQUIRED ACCESSORIES
LX6 POLYGRAPH SYSTEM

Model LX6-S
Lafayette's next generation 10-channel polygraph system with accessories.
LX4000 POLYGRAPH SYSTEM

Model LX4000-S
LX4000 Polygraph that includes a Polygraph DAS, LXSoftware, Pneumo Assemblies, Cardio Cuff, Pump Bulb, EDA Assembly, Activity Sensor, and all necessary cabling.
LX5000 POLYGRAPH SYSTEM

Model LX5000-S
Computerized Polygraph that includes a Seat Activity Sensor, Blue and Silver Pneumographs, Arm Cuff, and an EDA Cable.
Copyright © 2009 - 2019 lafayette Instrument Company. All Rights Reserved.