RELATED CATEGORIES
Computerized Polygraph > LX4000 Polygraph System > LX4000 Systems
LOGIN
LX4000 POLYGRAPH SYSTEM KIT WITH LAPTOP
Model LX4000-515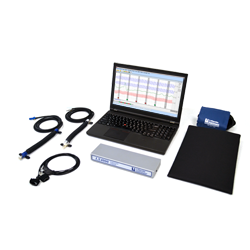 The LX4000 Computerized Polygraph System records, stores, and analyzes physiological changes during a polygraph examination. The LX4000 system combines conventional polygraph procedure with sophisticated state of the art technology.
KIT INCLUDES
LX4000 Data Acquisition System
Laptop (Call for current specifications)
LXSoftware (Windows 10® Compatible)
All necessary cabling
Extensive User Manual on CD-ROM
DAS has a 3 year limited warranty on all parts and labor
LX4000 BENEFITS
Best in industry UL 94 V-0 rated, ASTM tested, PVC/Acrylic material; delivering exceptional impact resistance, extreme durability and inclusion-free surface quality
Fully integrated POLYSCORE and OSS scoring algorithms
Integrated security password and system lockout
High resolution, real-time graphic display of physiological wave forms
Windows integrated software allows point and click navigation
Fully integrated word processing template for report capabilities
Extensive built-in help program with tutorial and trouble shooting sections
View, score and print charts without the DAS interface attached
Capable of real-time printing
Numeric chart evaluation templates
Lafayette Drug Reference written by Dr. Catherine B. Wilmore, Ph.D., Department of Pharmaceutical Sciences, University of Maryland at Baltimore.