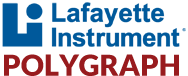 CUSHIONED PORTABLE SUBJECT'S CHAIR
Model 76877P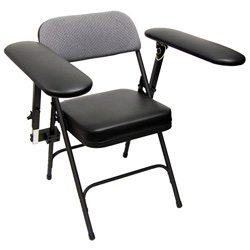 DESCRIPTION
This chair is especially useful for the examiner whose profession takes him into many unknown field testing situations. This new folding chair design is more comfortable, more durable, easier to transport, and bears weight better than past portable examinee chairs. The chair folds easily (dimensions 50"H x 25"W x 8"D), will fit in a vehicle for transport, and weighs only 22.5 lbs.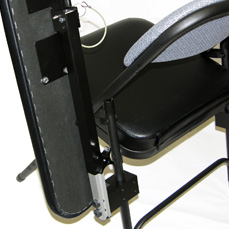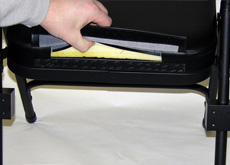 SPECIFICATIONS
Dimensions (unfolded): 32"H x 32.5"W x 27"D (81.3 x 82.6 x 68.58 cm)
Dimensions (folded): 40"H x 32.5"W x 6"D (101.6 x 82.6 x 15.24 cm)
Seat: 15.75" Wide x 15.50" Deep (40 x 39.4 cm)
Capacity: 300 lbs (136.1 kg)
Chair Weight: 22.5 lbs (10.2 kg)
Shipping Weight: 105 lbs (47.6 kg)
RELATED PRODUCTS
CUSHIONED PORTABLE SUBJECT'S CHAIR WITH SEAT ACTIVITY SENSOR

Model 76877CS
Specially designed chair for examiners who travel or perform tests "in the field." Includes Seat Activity Sensor Pad Model 76879S.
Copyright © 2009 - 2021 lafayette Instrument Company. All Rights Reserved.